Ron Swanson is a fictional character from a TV show that is now over. At the core of his personality is a rugged individualism, fervent belief in small government, and a powerful dislike of Europe (except maybe Scotland, on account of whisky). And although it's true that France and much of Europe could be considered a "socialist hellscape"(his words) to someone like him, I think Ron and those like him could stand to take a closer look at the French people and their history. He might find more in common with them than he thought, as I hope to show in this top 5 list.
5: Fine wooden furniture
Ron doesn't betray emotion about many things, but he's a passionate woodworker (like the actor who plays him, Nick Offerman). Ron even won the "Indiana Fine Woodworking Association Award for Best Chair", which may be the only award he ever cared about. But did he know that the French construction of wooden chairs has been a big deal for centuries? I should know– I once had to spend about two weeks studying them in a French history class.
4: The cultivation of the moustache
The reputation of the facial hair of the upper lip of French men is well known, and this is another thing Ron has in common with them.
Left: famed moustache owner and literary giant Honoré de Balzac. Right: Ron Swanson.
The resemblance is uncanny.
3: The cooking and consuming of meat
2: Social standoffishness & general stoicism
While it's a vast overgeneralization to say that the French people are cold or rude or what have you, there's certainly a cultural difference between them and the hordes of tourists who descend as locusts upon their lands. As a government employee, Ron knows what it's like to be hassled. I imagine he'd get a lot of mileage out of body language like "the Gallic shrug", which would allow him to speak his mind without ever saying a single word.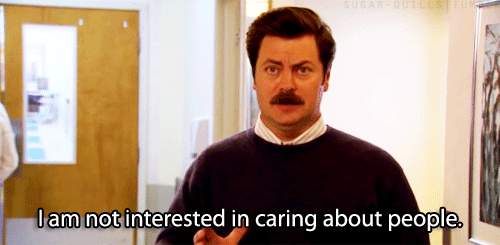 1: BREAKFAST FOODS
I've got good news for you, Ron. Although many French people will have a simple piece of toast and some coffee for breakfast, they also know their way around eggs and meats, as well as waffles and pastries.